The best way to protect your truck bed from damage and wear is to protect it with a bed liner. Unfortunately, most aftermarket, drop-in bed liners fall short of offering the best protection possible and can have all sorts of drawbacks—such as reducing bed space. The best possible solution is a spray in bed liner in Duluth, MN, from Line-It Midwest, Inc.
Why Choose Spray Liners?
Not only are our spray in liners perfectly tailored for your specific vehicle, they're also extremely strong and come with a number of additional benefits, including:
Spray creates a great texture, to prevent spills and sliding of items
Spray in liners keep tie-downs accessible
The coating is thin, meaning no list space in your truck bed
There's no static electricity buildup from a spray in liner
Sprays can protect against denting, scratches and spills
Spray in liners are also rust resistant and impact resistant
In addition to all of these benefits, our application methods ensure your surface is sprayed down perfectly, resulting in a truly tailored liner. You'll only get this level of customization from a spray on bed liner in Duluth, MN!
Liners for all Vehicles
Line-It Midwest, Inc. is proud to provide spray in bed liners for residential, commercial and industrial vehicles alike. Some of the most common vehicles we provide protective coatings for include:
Pickups
Vans
Cars
Utility vehicles
Flatbeds
Fleet trucks
In addition to the above vehicles, we're also able to provide coatings for numerous other applications, including boat hulls, machinery, freightliners and more. Just ask us about our full scope of capabilities!
Choose the Best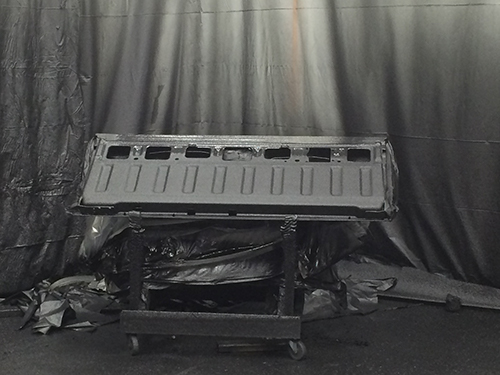 Not only do we provide a high-quality product that's designed to stand up to abuse for years to come, our team cuts no corners when applying spray in bed liners. We spray liners thicker and heavier, which means you won't have to worry about performance issues or material breakdown in the years to come.
We also take the utmost precaution to properly prep every application area. If something is rusty, we'll sand blast it or clean it off. Before we get started, everything is thoroughly wiped with ethanol and taped off to prevent overspray. We're committed to delivering quality results.
For more information about spray in bed liners and their benefits, please contact us today at (218) 391-7435. We're proud to provide a lifetime warranty to the original purchaser/owner on every job!